Welcome to KL Hair Academy
The Hunter's most progressive and well recognised training studio, providing the highest standard.
We run extensive seminars and workshops eac year with an average of 10 students in a unique, friendly and comfortable environment.
So what does being a hairdresser mean to you?

Are you hungry for more?

What drives you?

What is your passion?

Do you want more from your training?
Our team will lead you to your vision and push the boundaries - learn from the education leaders that will inspire you.
Our studio is located at 73 Maitland Rd Islington, inner city Newcastle. An old charm vintage studio, with a modern interior design, surrounded by the best of professional training equipment. Theory rooms are provided to brainstorm all of our knowledge as hairdressers.
How KL Hair Academy started
Kaylene's love of hair started over 37 years ago in a small country town and transformed into an enriching journey that would last for many years, travelling and working in many cities across Australia and the world. She has owned and managed businesses and been involved in delivering and supporting spectacular hair shows, national competitions and training sessions. Kaylene has been exposed to some of Australia's and the World's finest, greatest and most inspirational hairdressers.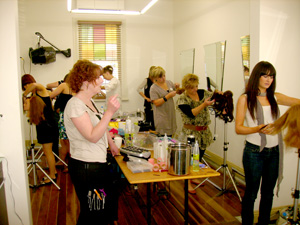 Respect for her ability to train and present quality education has been recognised by many in this industry. She has shown true organizational skills in the arena of running a training academy.
KL Hair Academy has been an independent training organisation for the past 12 years, uniting a strong team of independent trainers from around Australia. We have been given credit for our personalized training and are involved with many successful hairdressers and salons.
With the inclusion of our extensive range of hairdressing tools from Excellent Edges we have been filling a niche of education and WH&S for our hands and bodies.
Our business continues to progress from strength to strength - we are once again freshening and updating our image and ability to present current trends in our training
We are K L Hair Academy
A safe educational environment that encourages hairdressers to continually push their skills forward by producing fresh styles of learning.
We are education for hairdressing